Big gifts make a big impact. Most nonprofits fall short in landing game-changing major gifts however. This is number two in a five-part series exploring five reasons why. In our previous post we talked about how talent gaps on the fundraising team are one major contributing factor. In this entry we discuss how failing at the ask is reason #2…
---
Reason #2: FAILING AT THE ASK
The simple fact of the matter is, far too many nonprofits are failing at one of the most fundamental tasks in fundraising: Asking for money.
In the immortal words of the late Millard Fuller, founder of Habitat for Humanity:
"I have tried raising money by asking for it, and by not asking for it. I always raised more by asking for it."
We have seen many organizations jumpstart their major gift fundraising performance by applying three simple rules: ask more effectively, ask more often, and ask for bigger gifts.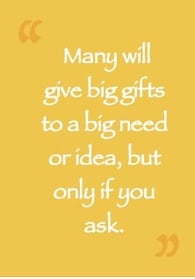 Many people are simply afraid to ask. Others have never learned how. Some have a false impression that asking for money offends donors. It doesn't. Many if not most of the major donors I know have a generous heart. Many of these consider giving to be one of their spiritual gifts. Giving is a big part of how they live out their purpose in life, so they are grateful when someone shares a need or opportunity, and happy to be able to invest in making people's lives better. Many will give big gifts to a big need or idea, but only if you ask. By not offering more meaningful opportunities for people to give, one could argue that your organization is doing a disservice to those who might otherwise be blessed by their involvement in your work.
A recent study by Charity Navigator showed that 93% of donors give during the year-end giving season. In our experience this is even truer for major donors. On average, charities receive 41% of their annual contributions in the last few weeks of the year. I'm sure you would agree it's extremely important that every one of your major donors has a specific offer in hand during the crucial year-end period. Consider this, however: Most major gift officers (rightly) prefer to solicit donors face-to-face, but most are only able to see a portion of their portfolio in any given year, and—based on real-life answers to surveys—typically are only able to personally visit a quarter to a third of their assigned donors during the year-end season. This means that three-quarters to two-thirds of your best donors may not be asked to give at the most important time of year. Remarkably, few organizations have a system in place to make sure that each of their major donors is being solicited during the critical fourth quarter period. Implementing a year-end campaign is a best practice that has significantly increased many of our clients' major gift revenues, and is just one example how to ask more effectively.
Click here to follow along with part three of this series…
---