Big gifts are game changers. Most nonprofit leaders agree that these kinds of gifts open doors to opportunities they would not have had any other way, but far too few achieve much in the way of real success in major giving. All too often, they struggle to meet goals, rotating through staff and repeating the same patterns year after year, like a hamster spinning in a wheel.
We have a team of consultants at our firm dedicated to helping nonprofits grow their major gift effectiveness and outcomes. When taking on a new client, we always start with a major gift audit to be sure we understand your goals, gaps, and context for opportunities before offering solutions. These assessments have afforded us a "peek behind the curtain" at dozens of organizations, ranging in size from small grassroots organizations you've probably never heard of to some of the largest and most well-known nonprofits in the marketplace.
Five things stand out as the main reasons why far too many nonprofits fall short in raising major gifts, and over the course of this five-part series of blog posts we will review each of them in turn. Here is the first:
Reason #1: TALENT GAPS
Major gift fundraising is a relational business, and nothing is more important than the talent you have on your major gift team. Talent matters most.
For some, the problem is simply that they don't have anyone on the team focusing on major gifts. You can't win without players in the game. Even if someone on your team has major gifts in their job description, all too often they aren't doing the job they're paid to do. We often say that "fundraising is a contact sport". To win, you need to be out there making contact with donors! We've seen scores of so-called major gift fundraisers who keep busy doing everything except the one thing they ought: making calls and closing deals with donors.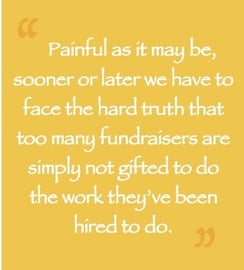 One of the most enduringly popular blog posts I've ever written—Top Ten Characteristics of Top-Producing Fundraisers—makes the case that the combination of characteristics needed to succeed in major gift fundraising is quite rare. Painful as it may be, sooner or later we have to face the hard truth that too many fundraisers are simply not gifted to do the work they've been hired to do. Countless among them jump from job to job every couple of years, tacking another set of overstated accomplishments onto their (overly lengthy) resumes and one more tranche of unmet expectations in their wake. Sadly, there always seems to be another unwitting organization waiting to welcome them with open arms.
Many others have raw talent but suffer from a lack of training or direction. Thirty years ago, I happened into my first fundraising job while in my early twenties. I was green as grass, yet my employer did nothing to train me. I sought out help and was fortunate to find someone who was willing to invest time into mentoring me. I credit him for helping me gain traction; without his help I'd have been spinning my wheels, like too many others.
If you want to do better at raising more major gifts for your nonprofit, be more deliberate in finding and developing talent. Do some personality tests (such as DiSC and Myers-Brigg) to see if your candidates have skills and characteristics that fit the job. But don't only focus on personality. The best indicator of future performance is prior success, so do your homework to verify how they performed in past positions. And then invest in training and developing your people. Maybe even invest in some professional coaching—a small price to pay for what will likely yield a significant boost in their productivity.
Click here to continue reading part two of this series, "Failing at the Ask"…
---
Looking for more on this topic? Check out these other great posts related to finding and developing talent for your major gift fundraising team:
---
Do you need help finding and recruiting a top-talented fundraiser at your nonprofit? We have the marketplace knowledge, understanding, expertise, and access to networks and relationships that are critical to succeed in recruiting top fundraising talent, and have helped numerous other organizations find some outstanding performers. Why not put our team to work for you? Click here to learn more about our Executive Search Services. Or, click here to request your free price quote today.