It's hard to believe we are just one week away from Giving Tuesday! Falling on December 1st, Giving Tuesday sits right in the middle of the year-end campaign season. Estimates are that it could raise more than $600 million, an almost 20% increase over last year. And the number just keeps growing.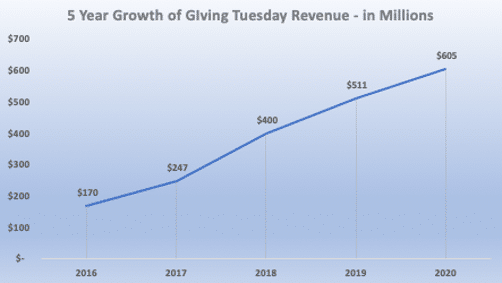 What started out as a digital event meant to counter-balance the consumerism of Black Friday and Cyber Monday, has become the widely accepted launch date for year-end digital giving campaigns.
With only one week left until December 1, if you don't have a Giving Tuesday strategy planned, it may seem like it is simply too late. We don't think that's true, but don't waste one more moment!
Digital marketing experts recommend the following in the final days leading up to December 1.
Decide what your offer is going to be. The better you know your current donors and what they respond to, the more you can (and should!) curate and customize the Giving Tuesday offer.
Start promoting it – right NOW! Make an announcement that something amazing is about to happen. Think creatively about what will help to build momentum and excitement towards December 1. Some ideas:

Give the public an opportunity to participate in a life-changing campaign

Give an exciting campaign progress report

Announce a challenge grant

Share a very special story

Share a special opportunity to get involved

Release an official statement of the impact

Create a communication crescendo up to and down from Giving Tuesday. Just like other campaigns, building communication momentum and then following through with echo communications works for Giving Tuesday, too!
Bring everyone to the party! Get all social media channels involved and represented.
Mobilize your friends by asking them to share your social media posts.
Say thank you publicly and follow-up. This should include a digital welcome series that triggers immediately after a gift is made.
With people already in the giving spirit, Giving Tuesday is a wonderful opportunity to acquire new donors and keep current donors engaged, and keep your organization at top of mind as you count down to the end of the giving year.
Do you need help in creating compelling offers? Dickerson Bakker's Impact Messaging Team is here to help! Contact us today to learn more.