Ask anyone who knows Dabo Swinney how he built the nation's number one college football program, and they will tell you he did it by the sheer strength of his leadership. Want to learn how to lead like Dabo and build your own high-performing team? Here are three leadership lessons I learned from An Evening with Dabo…
---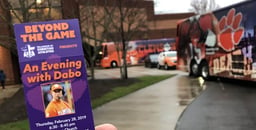 A friend recently invited me to attend a fundraiser for the Fellowship of Christian Athletes featuring Dabo Swinney, the renowned head coach of the number-one rated Clemson Tigers, two-time national champions. This was a particular treat for me because I love college football and I'm a big fan of Clemson University, where my daughter is a senior this year.
Dabo did not disappoint. Here are three leadership lessons from a man who in my opinion will go down in history as one of the best coaches of all time:
Talent matters most.

Whether in football or in fundraising, you cannot build a high-performing team without high-performing people. Dabo is known for his skill at recruiting top talent. His advice? Take it slow. Never fall in love at first sight. Get to know the candidate. Do your homework. When presented the opportunity to sign top-ranked quarterback prospect Trevor Lawrence early, Dabo sent him home, telling him he wanted to get to know him first. Says Dabo: "I want to know who my recruits are. I want to know they will fit our culture. I want guys that are seriously interested in coming to Clemson." Those are wise words to follow no matter who you are recruiting.

From the beginning, Dabo has always been more focused on building a winning team than on recruiting superstar talent. Above all, he understands that winning organizations are magnetic to talent. Build a winning team, and you will never have a hard time recruiting talent. Talent will come to you.

To build a winning team, you need to build a winning culture. It doesn't matter how brilliant your playbook is, you cannot build a winning team without a winning culture. And every organization's culture is a reflection of their leadership. In the words of Dabo, "Obviously you've got to make decisions, cast the vision, set the strategy and all those other things – but at the end of the day, none of that stuff's going to matter if you don't create a winning culture."

When it comes to culture, no words better sum up Dabo's philosophy than "all in". Those two words became his signature mantra the day after taking over as head coach in 2008, and continue to define him today. Says Dabo: "All in is not just a slogan. It's a way of life… it's about being fully committed to doing the best you can with what you've got."

Dabo is always clear and straightforward in what he expects from each player on his team. His number one expectation? Always strive to be your best. If his players are not giving their best, Dabo will call them out. (And it's not just players who get called out, as demonstrated by this viral clip of Dabo yelling "DO YOUR JOB" to a ref during the national championship).

Anyone who has watched a Clemson game knows that Dabo can be intense. But players take it from him because they know he cares. According to Dabo, "People don't care what you know until they know that you care… It's about having a genuine appreciation for each other – for everybody, and for each person's role. Leadership is ultimately about serving others, and I think if you have that mentality and that perspective, then you have a chance to be a good leader."

Play to win.

As my colleague Shawn Saunders often points out, too few nonprofit leaders truly play to win. Too many simply play not to lose. Ask Dabo what his job is, and he won't mince words: "My job is to win football games." One of his most-quoted Bible verses is 1 Corinthians 9:24: "In a race everyone runs, but only one person gets first prize. So run your race to win." And win he does. How does he do it? Here are a few tips he shared that evening:
Do common things uncommonly well.

Dabo quotes often from George Washington Carver: "Do common things in an uncommon way, and you will command the respect of the world." This was a recurring theme in his message: focus on the fundamentals, and do the little things better than anyone else.

Do what needs to be done now

. Says Dabo: "It's not about what's in the rearview mirror, it's about what's next. Yesterday's losses don't mean a thing today. Figure out what needs to be done and do it." Longtime Clemson strength and conditioning coach Joey Batson tells it like it is: "Dabo doesn't run from problems, he attacks them."

Learn from your mistakes

. According to Dabo, the best lessons don't come from the games you win. The best lessons come from the losses.

Believe

. Dabo hung that word on the wall of the team meeting room on the very first day he took over as coach, and it's been there ever since, steadily guiding them through the years he built the team. Ten years ago, the idea that Clemson would become a powerhouse, two-time national championship team was laughable. But Dabo never faltered in believing they could do it. To be a great leader, you need to have heart. And to have heart, you need to have convictions. Dabo's best line of the night? "Hold on to what you believe. Don't let anyone run their dirty feet in that space between your ears!" Dabo is a man of deep convictions. He believes in his players. He believes in working hard and putting everything you have on the field. Above all, he believes in God, and that God designed him to win. Those beliefs make him who he is, and they are what drive him and his team forward every day. To do any less just wouldn't be Dabo.